Quality Couplings for Agricultural Applications
Unitread Agri-Couplings are designed for ease of use without leakage and minimum restriction of fluid flow during operation and are used as standard equipment on a wide variety of agricultural and mobile products such as
Farm Tractors,
Front End Loaders,
Combines,
Wing Plows,
Tractor Trailer
Earth Moving Machines.
Salient Features
Interchangeability & performance requirements meet or exceed ISO 5675 Standards.
Connection / Disconnection : Retractable Sleeve / Push-Pull Type / Screwed.
Available with a rugged ball valve or high flow poppet valve.
Materials: Female in Steel, Male in High Grade Carbon Steel with wear portions hardened.
Surface Treatment : Zinc Plating Cr III Trivalent.
Anti Extrusion rings in PTFE.
Seals : Standard Nitrile (NBR) for temperatures 25 C to 125 C. (Optional seals available)
Available in 3/8", 1/2", 3/4" Body Size with BSP / NPT / UNF / NPTF / Metric threads to meet customer requirements. (Optional sizes available)
Working Pressure : 200 - 350 bars
Flow Rate : 40 LPM - 72 LPM
Critical parts are hardened for longer life.
Locking Mechanisms : High Resistance Steel Balls.
Series ISO - 7241 A
Simplest Couplings used in agricultural fields.
Available with a rugged ball valve or high flow poppet valve.
One way Sleeve design permits implement breakaway when clamp mounted.
Available in 1/2" Body Size with BSP/ NPT/ UNF/ NPTF threads to meet customer requirements. (Optional sizes available)
Series ISO - 5675 Push Pull Type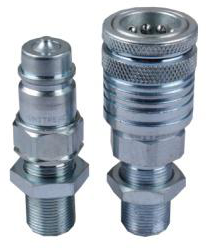 In these couplings, the two way (double acting) sleeve design with snap ring grooves permits one hand connect-disconnect when the coupling is mounted on clamps, bulkhead and panels.
Connection is achieved by pushing the male part into the female half, to disconnect pull back the male. Hose breaking can be prevented in case of accidental disconnection.
Breakaway Coupling
These couplings can be mounted directly on the valve or to rigid tubes. The connection is achieved by one hand operation. Disconnection is achieved by pulling back the male part. Connectable with male part under pressure. It can also be disconnected under pressure in case of emergency situation to avoid hose breakage.
Available in 1/2" Body size with BSP/ NPT/ UNF Threads to meet the customer requirements.
Series ISO - 16028 Flat Face Coupling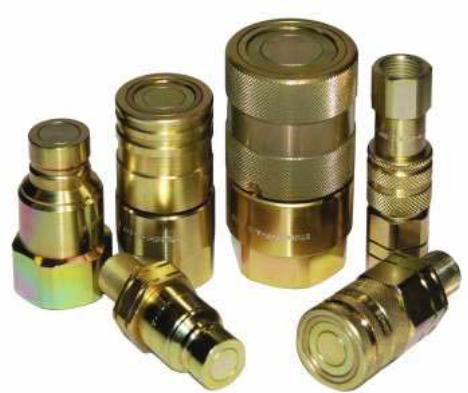 Also known for leak free performance, these couplings are suitable for use in applications involving dusty or dirty environments & where oil loss cannot be permitted. Able to work at a pressure of 250 bars, the coupling is available in BSP & NPT threads with Male / Female End Connections.
Multi couplings
Multi couplings are created so as to connect and disconnect several hydraulic lines together at the same time. The operation is carried by a guide crank to manually engage and disengage the coupling plates. Available in Flat faces in 2,4,6 and 8 nos with any combinations.
Ball Type Couplings
Used for Old- generation Tractors, mainly in Eastern Europe.
Connect under pressure adaptors
Specially designed for the cases where connection is to be made under pressure, with a unique feature of compensating the fluid pressure. Available in 1/2" with BSP / NPT Threads.
Series ISO - 5676 Trailer Brake Coupling
These quick release couplings are interchangeable to ISO 5676 standards. The Coupling is connected/ disconnected by pulling back the external sleeve provided with flat faced valve for minimum spillage.
Mainly used in Tractor Trailer Brake System.
Dust Caps & Plugs
Their use prevents deposition of impurities on the mating surface of Socket & Plug in the connected position, which may contaminate the hydraulic circuit. Made from special PVC Oil proof material for temperature range 30-120 C. (Available in Different Colours)